Welcome to the Wiki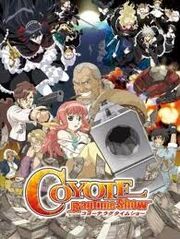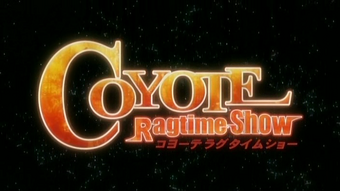 About Coyote Ragtime Show
This anime is rated PG-13
Coyote Ragtime is a science fiction and space action anime about the notorious space pirate,Mister, and his search for a legendary treasure vault. The term "coyote" is used to refer to space outlaws who commit crimes but would never let down their friends or family.Mister is one of the famous coyotes who wreaked havoc on many worlds and goes by many aliases.Detective Angelica Burns has spent the last four years trying to track him down. She finally received an anonymous tip that Mister was at a prison and the desert planet of Sandvil. She gains a loyal but clumsy assistant named Chelsea on the planet.
Mister was serving a one year sentence at the prison for a minor traffic violation. He had only days left until his release, but he plans breaks out in an elaborate scheme with the help of his sidekicks Bishop and Katana. Mister has heard his friend and legendary pirate king, Blues, had been assassinated by Madame Marciano, the cold hearted leader of the galactic crime guild. Blues had left his inheritance of ten billion dollars to his daughter, [[Franca] ,Mister plans to escape and help France locate the legendary treasure hoard left by her father. But Madame Marciano knows this and has sent her elite assassins, a group of android maids called the Twelve Sisters, to take out Mister and capture Franca.
Although aging, Mister is still as cunning as ever. He evades both detective Burns and the Twelve Sisters and easily escapes while leaving the prison in shambles. Mister reunites with Franca, but their quest to locate Blue's treasure is more difficult. It is located in a vault on the planet Graceland. However, Graceland is in a civil war and faces immanent destruction from the Milky Way Federation. Angelica and Chelsea are also hot on his tail, not to mention more of Madame Marciano's assassins and even some his old enemies.
Genre: Adventure, Sci-fi, action, Girls With Guns, Comedy